StrengthsQuest is an online development program for college students, and is used by Northwestern College as a tool to encourage student exploration and stewardship of their God-given design. After you take the Clifton StrengthsFinder assessment, you'll receive a customized report that lists your top five talent themes, along with action items for development and suggestions about how you can use your talents to achieve academic, career, and personal success. Working with the Center for Calling & Career as well as exploring the StrengthsQuest website can reveal ways to capitalize on the talents that come naturally to you and then use them to excel in your personal, academic, and professional life.
What's the difference between talent and strength?
Talents are the "raw materials" required for strengths development. Talents are innate, inborn, and given by God – they are naturally recurring ways that you think, feel, or behave that can be productively applied. Your talents are a major part of what makes you unique. Talents represent a capacity to do something, and it is important to know, value, and develop your talents.
A strength is a developed talent. It's the ability to consistently provide near-perfect performance in a specific activity. Developing and using your strengths contributes not only to achievement, but to bringing glory to God as you become more of who He intends you to be. Strengths are developed by acquiring knowledge and skill through education and experience.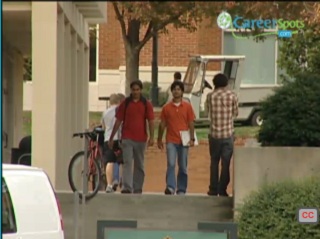 Who Am I
CareerSpots.com ©
What's the difference between strengths and personality?
God has creatively designed human beings in his image, such that each person is a wonderfully complex mix of uniqueness. Personality is the combination of characteristics, qualities, or preferences that form an individual's distinct character. Some would include unique gifts or talents as part of one's personality; others might simply refer to talents and strengths as part of the complex make-up of a person. Either way, talents and strengths are part of a person and aspects of an individual's God-given design.
What is the benefit of knowing my top 5 strengths?
Your greatest areas of talent are identified by the StrengthsFinder Assessment. The more you know about your God-given talents, the better you can develop them and apply them in practical areas such as academics, leadership, and career development.
Can StrengthsQuest™ reveal whether I'm in the right major and career path?
StrengthsQuest doesn't direct you to specific majors or professions, but it does help you figure out how to nurture your talents in your major and then use those talents in whatever professions you pursue. The Center for Calling & Career has Strengths Coaches you can work with to uncover ways to use your growing understanding of your strengths in your education and career.
How can I develop and apply my strengths?
First, deepen your knowledge about your strengths. Read about them online or talk to a Strengths Coach. Ask others to share how they see your strengths. Second, think of ways you can use your strengths in your classes, internships, work or personal life. What could you do to practice using your strengths? Just like a pianist who needs to practice or an athlete who needs to train, consider ways to practice using your talents. Third, increase the opportunities you have to use them in multiple ways.
Where do I find a Strengths Coach?
The Center for Calling & Career has Strengths Coaches, Academic Advisors and Career Counselors to work with you on understanding, developing and applying your strengths. They can also assist you with deciding your major, exploring career options, finding an internship and preparing for employment. Stop by Naz fourth floor, N4106, or call 651-631-5265 to make an appointment.